Photo Makeup Editor
2.05
Beautify
Who wouldn't want to see a preview before committing to a make-up session? I suppose ladies like to be surprised, but once every so often an informed choice is better than a blind one, wouldn't you agree? Besides, if you're addicted to posting selfies on Facebook but like the stay-at-home lifestyle , then you might want to consider never putting on make-up again. I mean, it's definitely healthier for your skin, although selfies usually mean an unhealthy ego... Ah well...
Photo Makeup Editor allows you to fix the make-up after a photo shoot. Of course, the ideal use is to test different makeup styles before going to the shop and spending a fortune on Chanel products.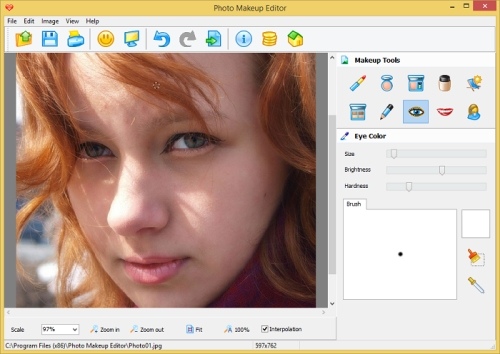 There is an assortment of makeup tools available that use a standard color selection palette. The tools themselves differ in transparency and the way they apply color to an image. Applying eye color or skin care will yield different results so having these tools greatly enhances speed compared to working with a general photo editing program.
There are sliders for brush size, brightness and hardness that modify the entire array of tools. The option of having customized settings for each one is not present. I guess that modifying those sliders will not happen often, but what do I know...
There is also a Virtual Plastic Surgery tool, but it is not very well thought, the only option being changing the size of the smudge tool that you use for elongating the ears and whatnot.
Features
Customized brushes
Pros
Intuitively named customized brushes
Cons
It lacks level control over individual tools
Conclusion
Photo Makeup Editor is a handy program for trying out different styles. Of course, they will never look like the real thing, but having a vague idea is a bonus nonetheless. This bonus isn't free.
RELATED PROGRAMS
Our Recommendations
---
---
---
---